Antique Pocket Watch Repair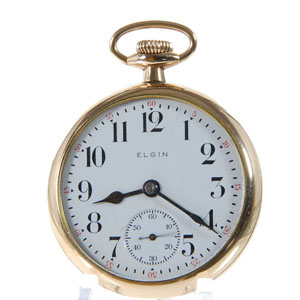 Cleaning, oiling and repair services for antique pocket watches of the mid 19th century to the mid 20th century.
(All railroad grade watches, Elgin, Hamilton, Hampden, South bend, Waltham, New York, Standard, Illinois, Columbus, Howard, Rockfor, Gruen and others.
When a watch is serviced, oil is place at specific areas of wear such as pivot holes.  As time goes by, dust enters the watch and the oil deteriorates.  This deteriorated oil mixes with the dust and creates a sticky, gritty substance that actually wears the pivots more than if there were no oil at all.  The balance wheel in particular receives extreme wear, as it oscillates 18,000 times per hour.  That is why a watch is oiled very sparingly, reducing the possibility of oil migrating to other parts of the watch and gathering more dust.
In the early century, watchmakers claimed that a watch should be cleaned and oiled every year or year and a half at the most.  The oils used at that time did not hold up as well as modern synthetic lubrication.  Even at that, many people of the time ignored that advice and many watches were not serviced for five to ten years, or until the watch stopped working.
If you have acquired an old watch that has not been run for quite some time and plan to start using it, then it should be fully serviced. After that, opinions vary, but it is generally recommended that a watch be serviced every 3-5 years if run on a daily basis.
Estimates for repair are free of charge and come with a detail of what needs to be done in order to return the watch to working condition.  No work is begun until approval is recieved, and if you choose to decline the repair the watch is returned to you within a couple of days.  All work done is guaranteed for one year.
Disclaimer: Due to the degree of complexity and fragility of antique pocket watches, as well as the availability of certain parts, depending on the age and model of your watch, estimates and repairs usually take 1 to 4 weeks on average. In extreme cases, up to 10 weeks may be needed in order to complete the repair. You may contact us at any time if you are needing an update and we will make every effort to provide you with the most accurate up to date information. If we are unable to repair the pocket watch for any reason, such as it needing factory service, we will inform you as such and give you the option of sending it off yourself or having us do  so for you. Be advised, the  minimum timeline for factory service is 6-8 weeks.